The administrative functions of a family office  
For wealthy families, establishing a family office or availing of the services of a family office manager or administrator is a way to sustain their wealth, minimise investment risks, improve and diversify their portfolio and ensure the wealth will be passed on smoothly to the next generation.
Family offices specialise in services that tailor financial plans and investment strategies to align with high-net-worth families' objectives and goals. These services include tax management, tax advisory, estate planning and more.
One primary value of family offices is that they help their clients diversify their assets and assist in governance and succession planning. Apart from these, family offices also help HNW families to execute philanthropic strategies.
Family office and administration: who is involved?
Family Office Director: They work closely with the family to define and execute strategies. 
Chief Investment Officer: They are responsible for implementing investment decisions and diversifying assets, considering the family's risk appetite. 
Chief Financial Officer: They oversee the family office's budgeting, accounting, reporting and financial affairs to ensure compliance. 
General Counsel: The family office handles legal matters, which include estate planning and compliance, to protect the family's assets. 
Philanthropy Advisor: For family offices that implement philanthropic strategies, an advisor is responsible for developing the giving strategies, setting up and managing foundations, etc. 
Administrative Staff: Family offices must be compliant with regulations, and thus, accounting reports, financial statements and other legal documents may be required. Family offices may have an in-house administrator or outsource these back-office functions to service providers like Bolder Group.  
Administrative responsibilities
Managing a family office goes beyond wealth management. Its administration involves critical functions that play a role in ensuring the sustainability of a family's wealth. Some of these are back-office functions performed by administrators. The following are the essential administrative roles of a family office: 
Estate planning — This is an important foundation of family office administration, wherein the family and the office collaborate to design a strategy that ensures the sustainability of the family's wealth and its smooth transition to future generations. The family office works with estate planning attorneys to create wills, trusts and other financial and legal instruments aligned with the family's financial goals. 
Governance solutions — These solutions establish frameworks to help family offices and family members make coherent investment decisions, succession plans and conflict resolutions. Effectively, governance solutions help avoid disputes between family members by designing the plan based on family dynamics and objectives. 
Trust administration — Trusts are essential to preserve wealth, protect the family assets and benefit from tax incentives. Bolder Group administers trusts to ensure that it is managed according to the family's objectives and compliant with the law. 
Private equity structuring — Private equity offers opportunities for the family's wealth to grow. However, such investments may be complex and come with risks. With a family office and the assistance of an administrator, families can maximise the returns of their PE investments while carefully minimising the risks. Bolder Group can also facilitate PE structuring and oversee related due diligence processes. 
Reporting — Family office administrators ensure all office activities are well-documented. From accounting to financial reporting and investment tracking, administrators free up the family and managers from the administrative burden of generating periodic reports. Additionally, accurate and timely reports allow the office to make data-driven decisions and adjust the strategies accordingly.
Bolder Solutions
We understand the administrative burden of operating and maintaining private investment vehicles and funds. Our platform can help you better manage administration, accounting, payment of invoices and keep track of budgets and expenditures.
One of our private wealth solutions is family office administration. Our team can streamline the processes of governance, PE structuring and succession planning for managers. On technology and reporting: we offer consolidated reporting services that include full support of our back offices and reconciliation teams, leaving you and your team to focus on a comprehensive view of your total assets.
Contact us today to learn more about our family office administration services.
Singapore as a family office hub
Let's rediscover Asia's #WealthManagement Hub and a centre for funds and family offices: Singapore!
Join us on 19 October 2023 at the Hotel Muse Bangkok for a panel discussion on Singapore's thriving financial services industry. Learn from our speakers: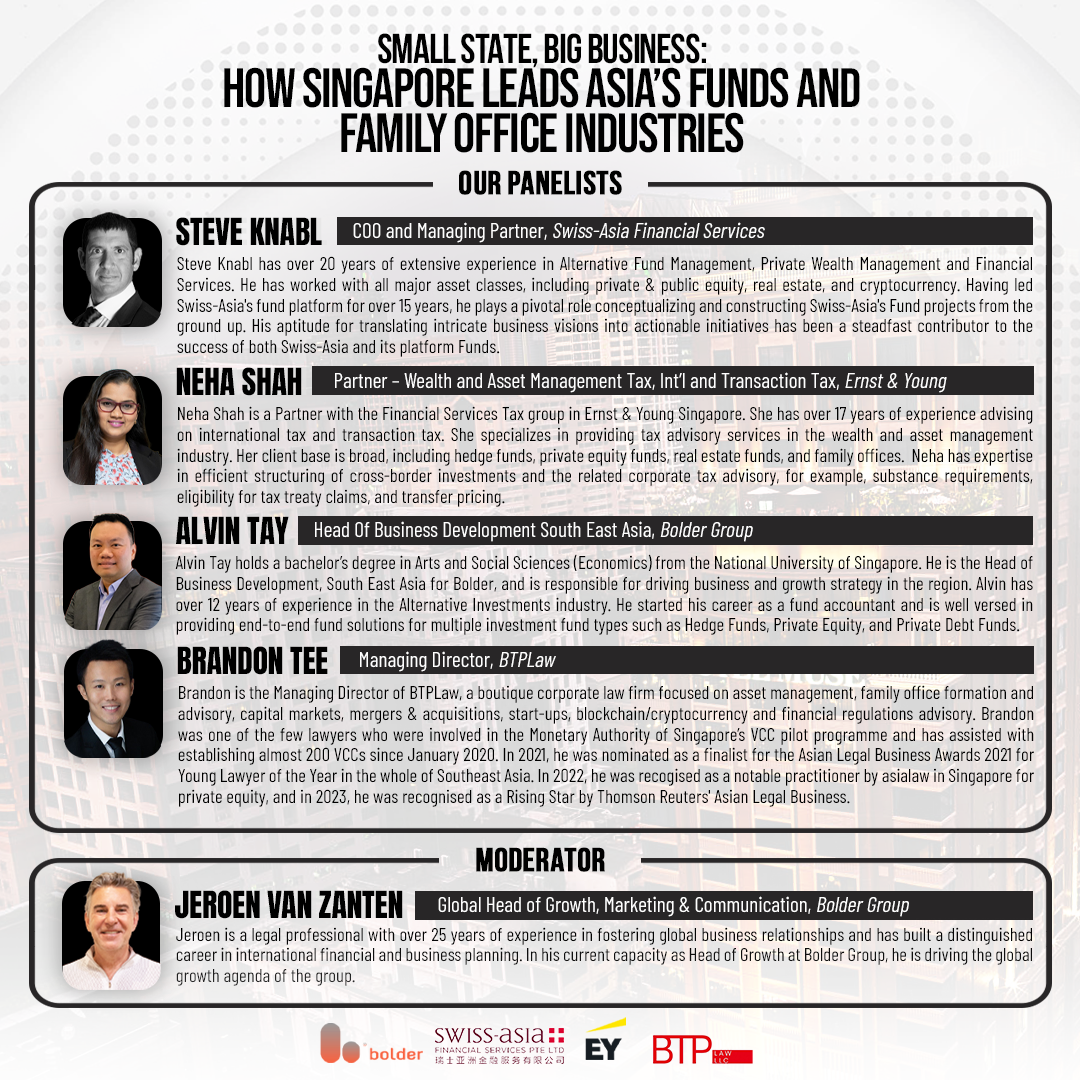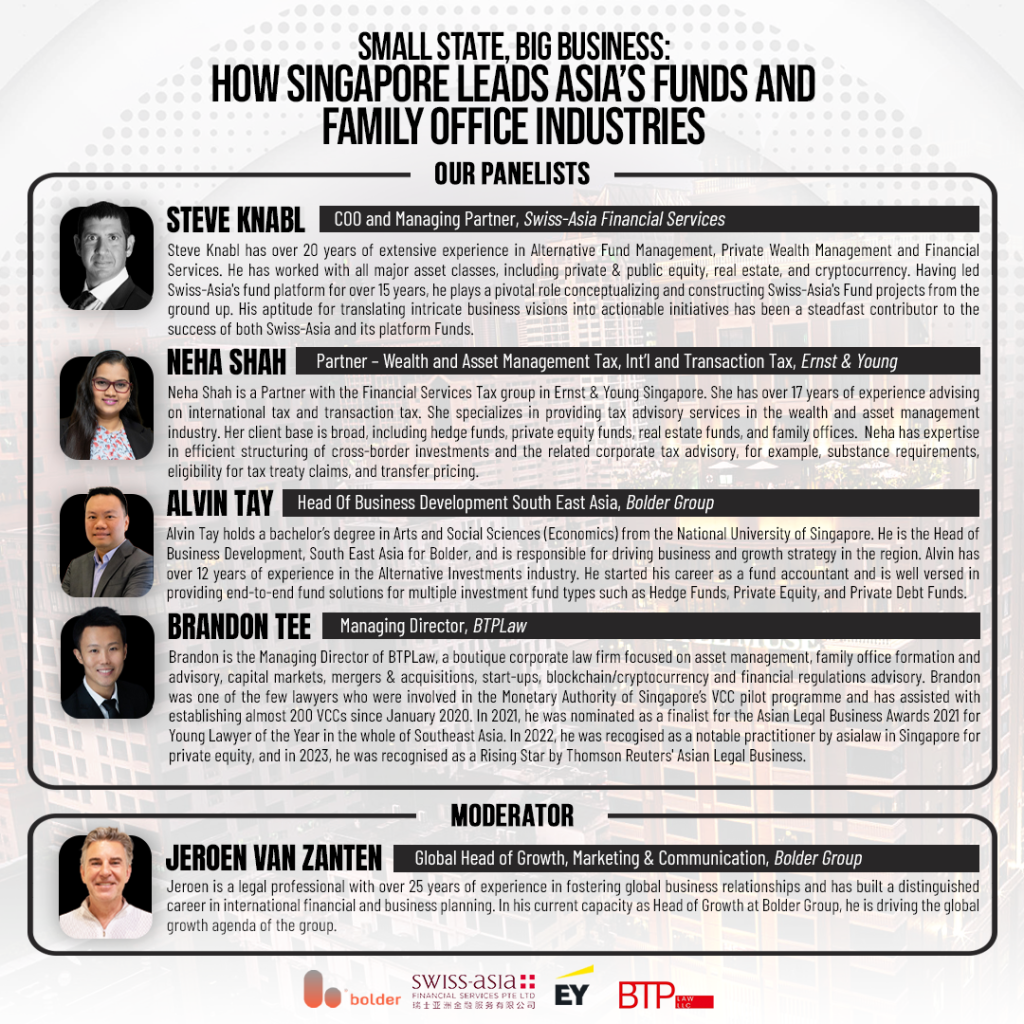 Gain valuable insights and connect with industry peers during the networking session.
For more information about this event, contact us today! Or register through this page: https://resources.boldergroup.com/singapore-asia-fund-hub-bkk-event
See you there!
Featured image from Adrien Olichon via Pexels