Bolder Women in Finance: Women's Month celebration 2022
In commemoration of Women's Month this March 2022, we are featuring 3 women in finance telling their experience, advise, and story as they go through their careers in the industry. These women are from different Bolder offices all throughout the globes, and from unique experience levels.

Read on as we share experiences from our Bolder Women.
Andreia Muresan @AndreiaMuresan
Regional Head of Business Development EMEA, Netherlands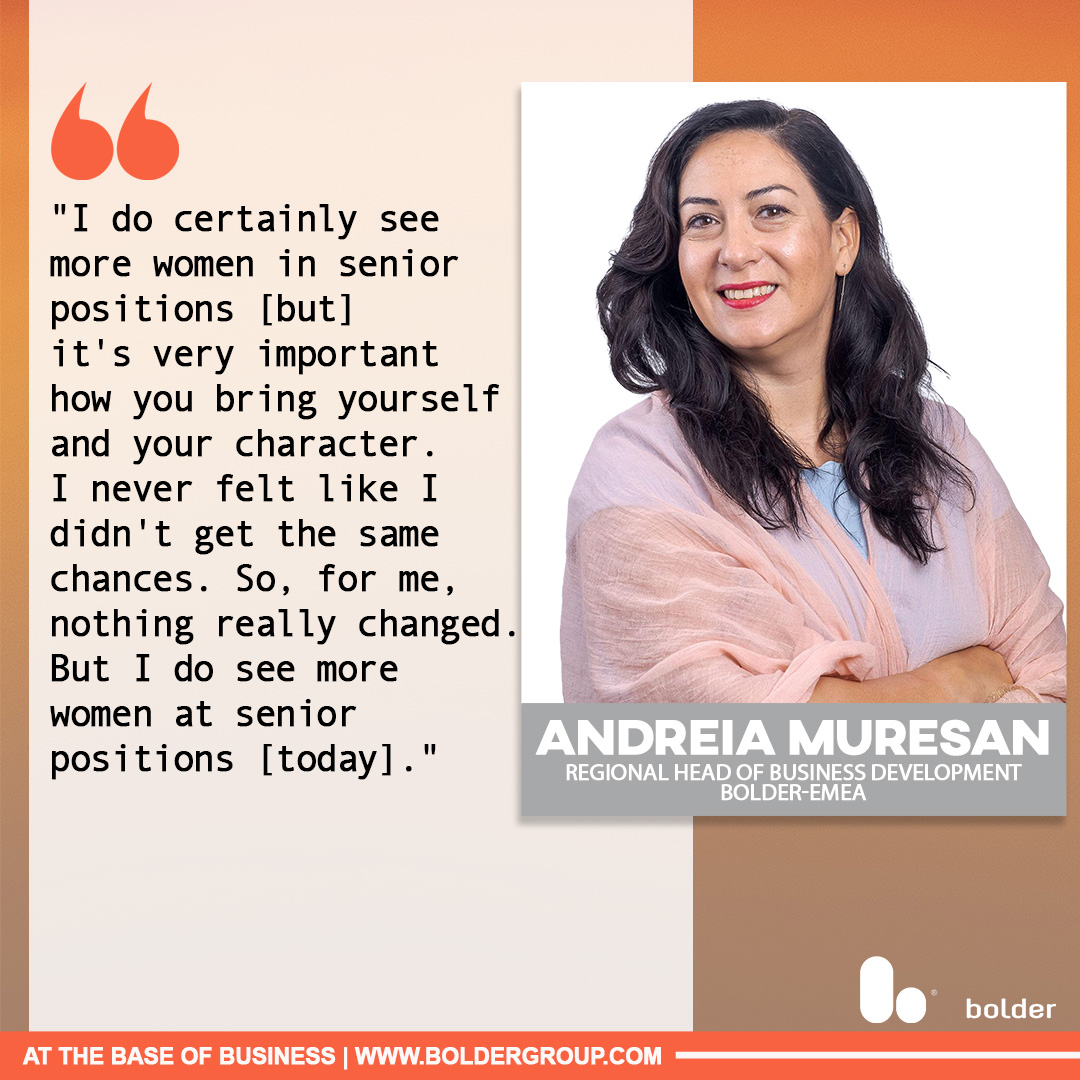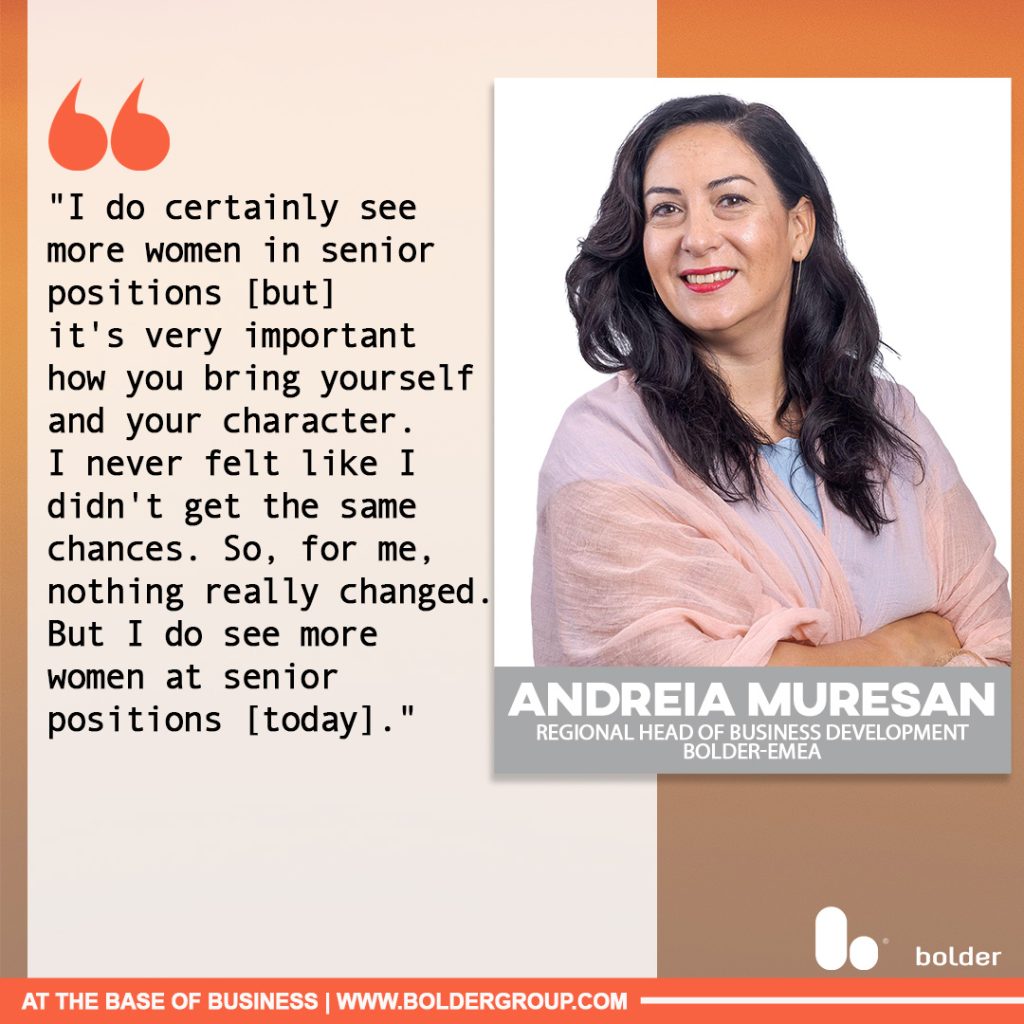 Andreia is in the finance industry for more than 20 years. She has a background in compliance, internal audit and operations. For Andreia, a job is more than just a task you must do, it is also about the relationships that you have with your co-workers, mentors, and clients.
During my career I have met people that were always, you know, willing to help, coach, and [to] support [me].

Andreia Muresan
Andreia initially started with Circle Partners (now Bolder Group) back in 2011 in the position of Internal Auditor. She has hold different senior positions within the company including Group Compliance Officer and Managing Director positions. So now, 11 years and counting, Andreia has recently chosen for a new challenge taking on the role of Regional Head of Business Development EMEA.
Always keen on learning new things, Andreia is always looking to grow, further develop herself and discover new things. With her 2 decades in the industry, Andreia is convinced that believing your own abilities and daring to make your own choices regardless of what other expect from you, is what you need in order to be truly successful. So, for young women who want to pursue their dream careers in the finance industry, "with whatever you do, you should do it with a motivation, you need to enjoy it", she advices.
Andreia finds the finance industry ever-changing and never dull. This motivates her to be on the lookout for new developments from technical as well regulatory perspectives. And that is why, we have Andreia to boldly lead the business development efforts in the EMEA region.
Stella Yeung @StellaYEUNG
Head of Corporate and Private, Hongkong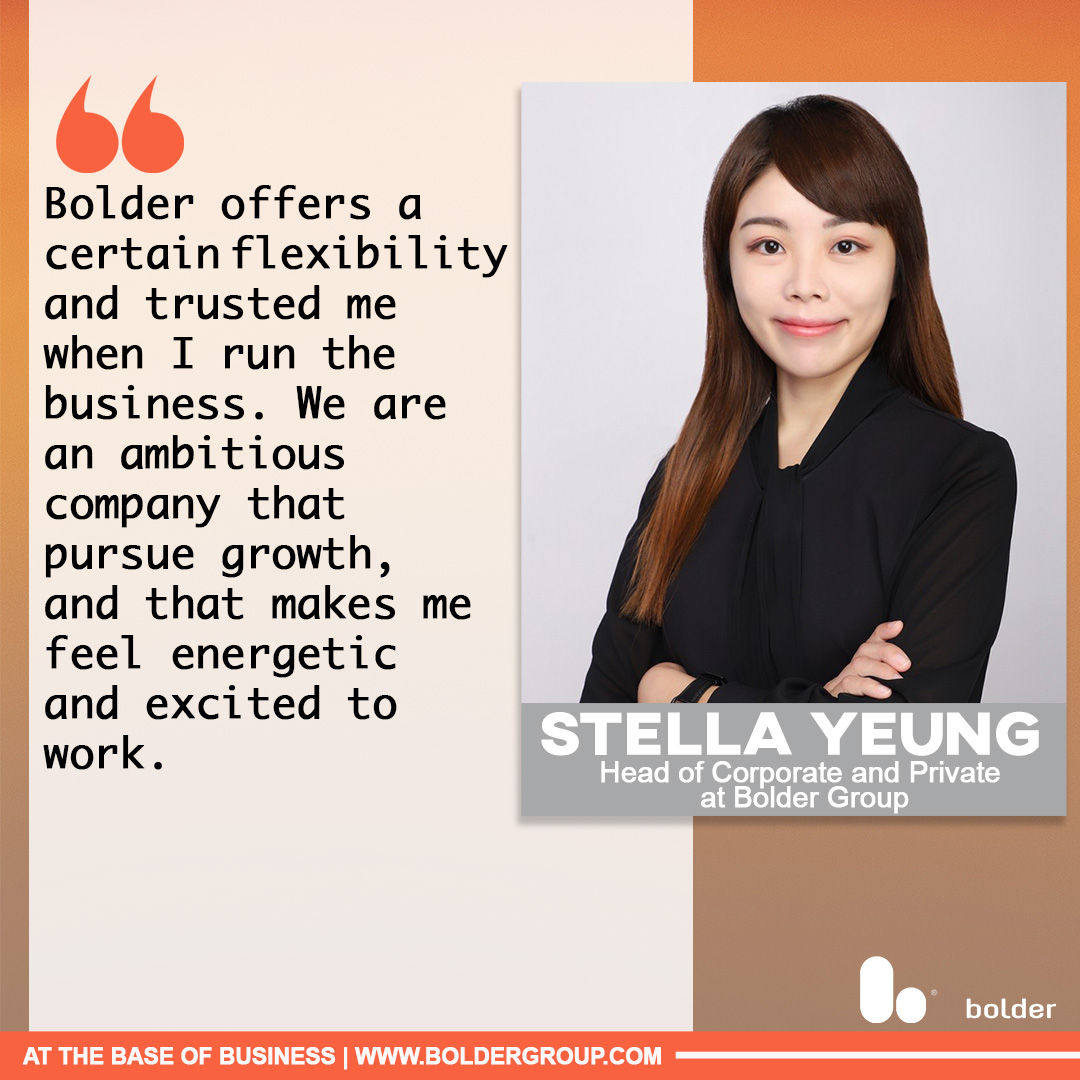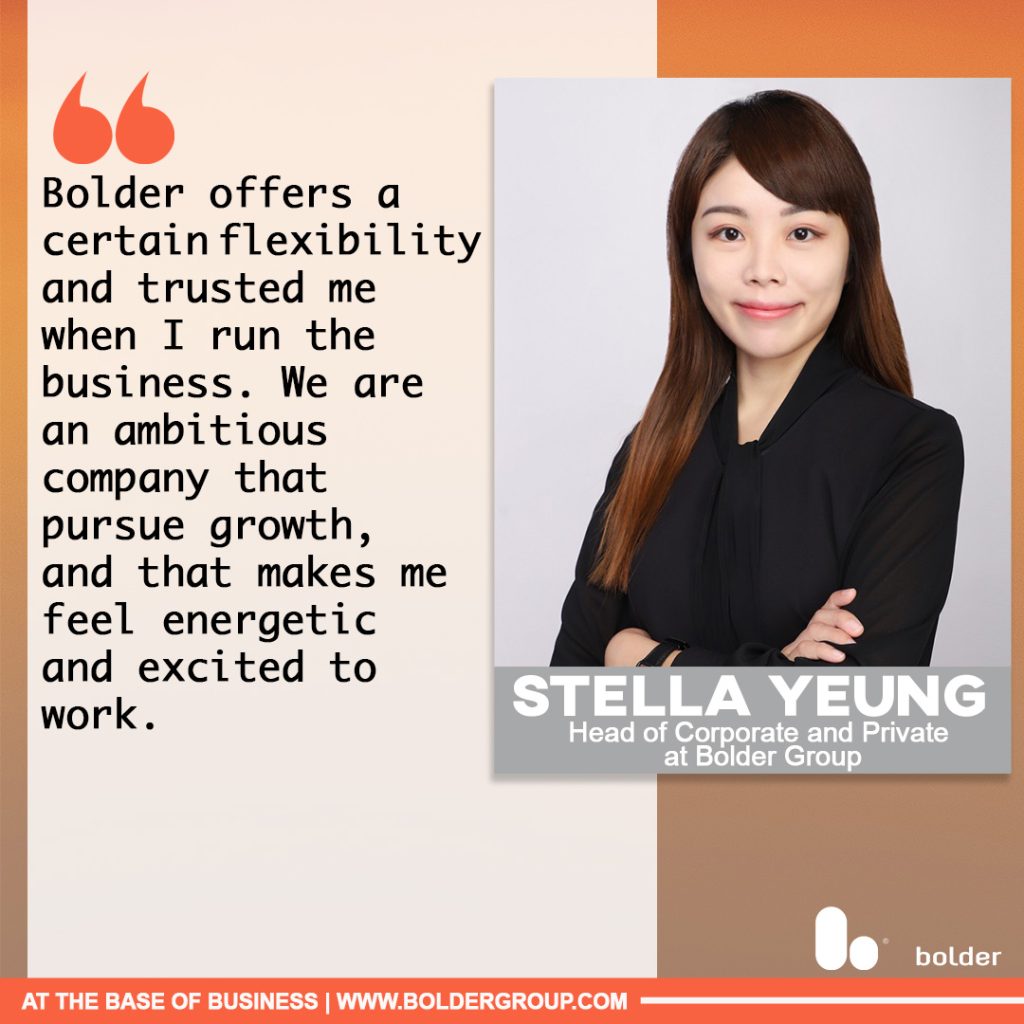 Before joining AMS Law, Stella worked as a personal assistant for operating of various kinds of businesses like restaurants, educational centres, kindergartens, etc. This experience has given her a strong background in handling diverse types of businesses which became eventually useful when she needs to do administration, HR, commercial, operational tasks for her current role with Bolder Group.
Her active involvement in office governance and other matters is one of the reasons why our Hongkong office is stable and running as best as it can despite the pandemic.
We at Bolder Group are grateful to have Stella be a part of our team for strong and bold nine (9) years. Her time with us has provided a huge contribution to the Group – not just for the Hongkong office, but for international growth as well.

Don't be shy to share your thoughts and embrace all the opportunities in the market. If you don't ever step forward, you will never know if you are valuable for the organization, you will never know if you will be the successful one. Fear[s] is your obstacle in your career, be confident.

Stella Yeung
Erica Abillon @EricaAbillon
Assistant Account Manager, Philippines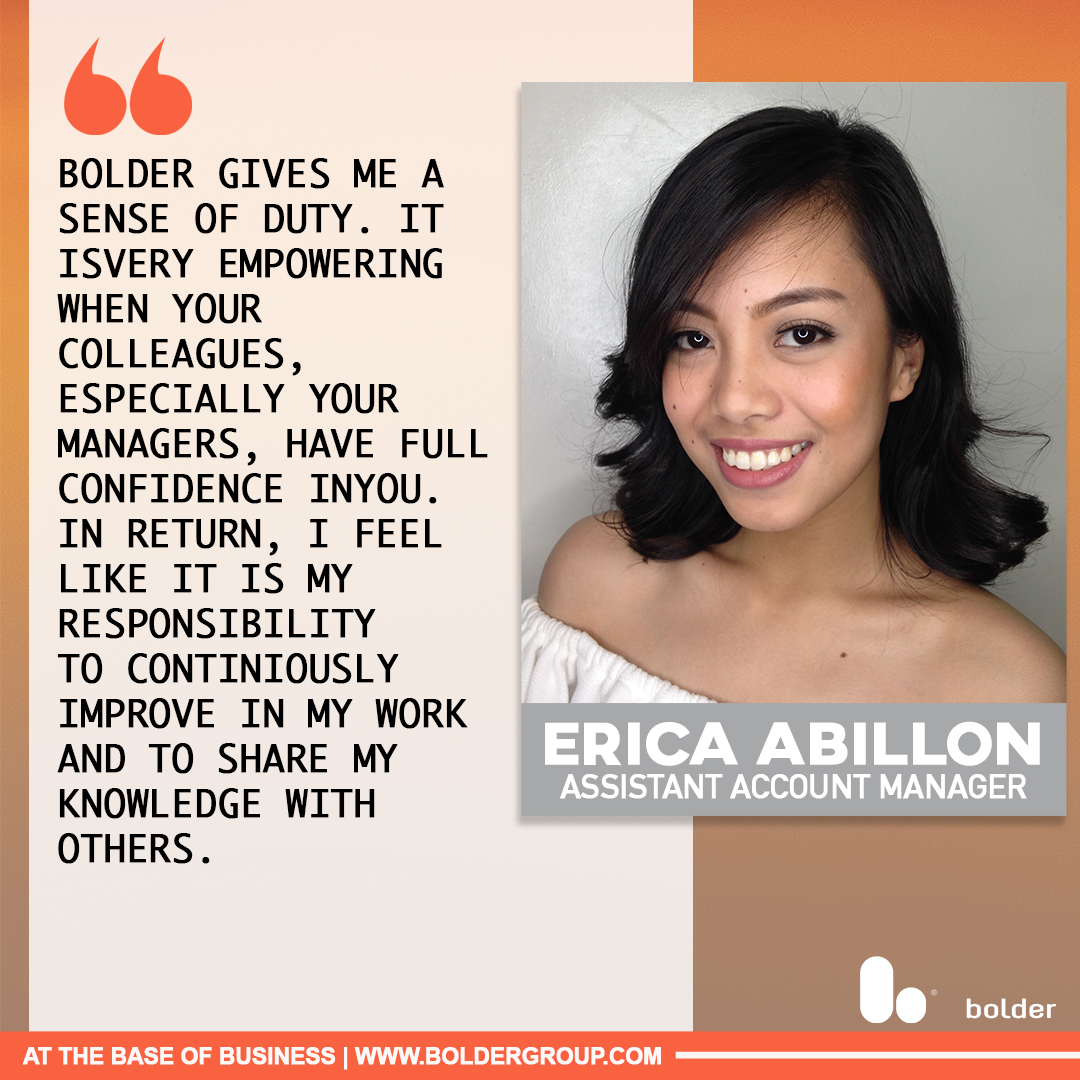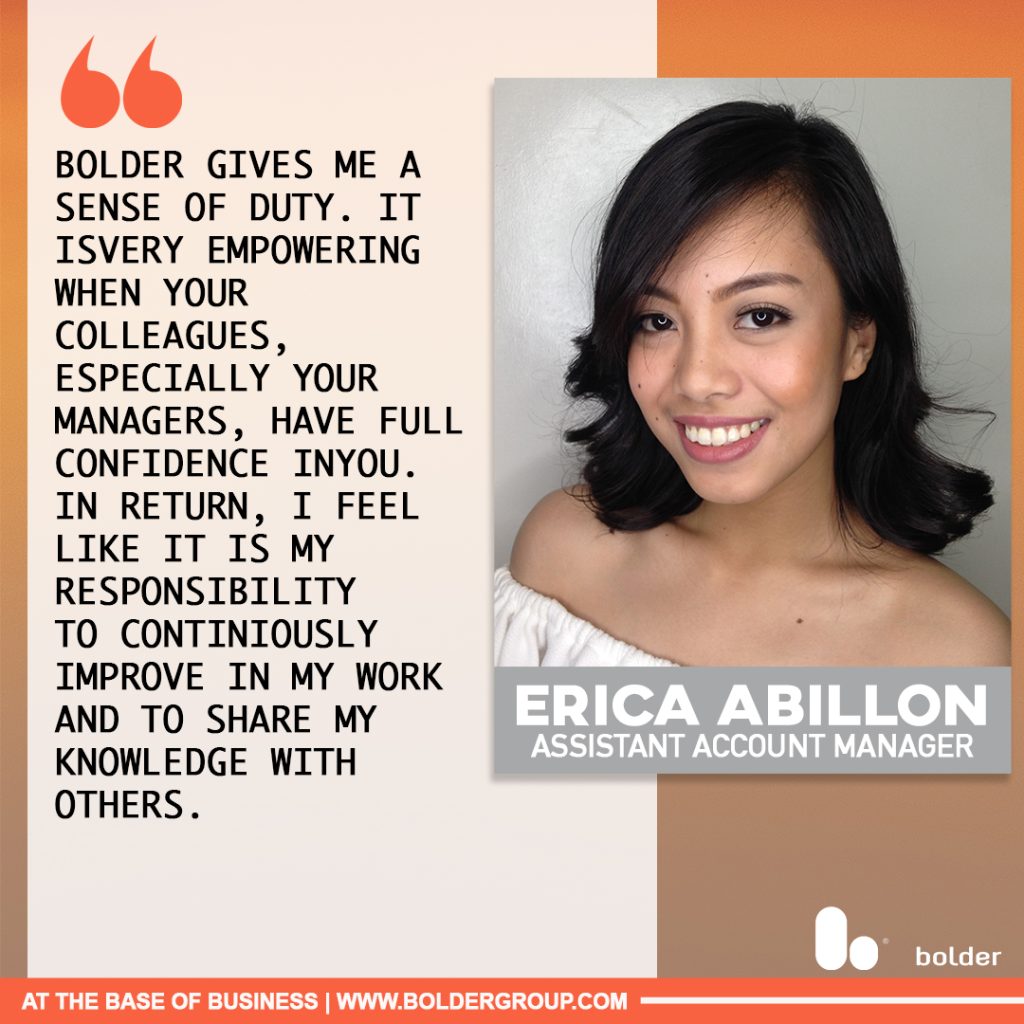 Erica is an Assistant Account Manager supporting international Bolder clients. Her experience in the finance industry covering 5 years as a Fund Accounting Analyst and a Senior Accountant have helped her become confident yet curious.
Head of Funds Philippines, Jakub Novotny commends her performance noting that she is one of the best performers. And that "she is doing very well [in her work]", he quotes.
As we'd like to see more talented women in the finance industry, we asked Erica for advice she can share to the young women and children interested in being in the financial industry; "Take the risk! You'll only get intimidated by the things you do not know, so don't be afraid to ask questions. Have courage! You are meant for greater things.", she shared.
We at Bolder Group are proud to have Erica as one of our assets in making one of our Fund Teams up to date in skills. As well as productive, knowledgeable, and passionate in what they do.
Bolder gives me a sense of duty. It is very empowering when your colleagues, especially your managers, have full confidence in you. In return, I feel like it is my responsibility to continuously improve in my work and to share my knowledge with others.

Erica Abillon
To learn more about what we do, visit our Who we are.